News
May 2023 SD FFA's New Era Update
2023 State FFA Convention program
Click here for a complete list of SD FFA Media/Press Releases
Eight SD FFA Agri-scientists Advance to National Competition
SD FFA Works to Build Leadership Skills
"Advisor Tribute" Scholarship recipients chosen; Students receive scholarships for FFA Summer Leadership Retreats
SD FFA Members Earn National Scholarships
SD FFA Foundation Publications
SD Ag Ed and FFA History
(articles and resources compiled by Dr. Clark Hanson)
SD FFA Foundation Links: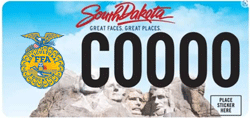 The SD FFA Foundation publishes the "SD FFA's New Era" newsletter
three times a year. This newsletter is available to every SD FFA member,
advisor and Foundation sponsor.
If you would like to advertise in this newsletter please click HERE.

Acrobat Reader is needed for many of the documents on this page. If you do not have it, you can download it free here.