News
2021 State FFA Convention Information
2021 State FFA Convention Press Releases
9/20 - 403 FFA Jackets awarded to members by SD FFA Foundation
Thank you to Titan/Graham/Goodyear tires, and BigIron Auctions for partnering with the SD FFA Foundation to host an an online auction to benefit the SD FFA Foundation!
7/20 - 2020 SD FFA Star Partners Help Fund New Generation of Student Leadership
SD FFA Foundation Publications
SD FFA Foundation Links:
SD FFA License Plates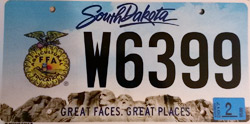 The SD FFA Foundation publishes the "SD FFA's New Era" newsletter
three times a year. This newsletter is available to every SD FFA member,
advisor and Foundation sponsor.
If you would like to advertise in this newsletter please click HERE.

Acrobat Reader is needed for many of the documents on this page. If you do not have it, you can download it free here.