News
July FFA Foundation Newsletter
Sponsor an FFA Jacket for a SD FFA Member!
SD FFA Star Partners Help Fund New Generation of Student Leadership
2017 SD State FFA Convention Program
2016 FFA State Champions Crowned in State Leadership Career Development Events
South Dakota FFA Foundation Awards $2,000 in Grants for Local FFA Chapter Service Learning Projects
236 FFA Jackets Awarded to Members by SD FFA Foundation
Draine Range Scholarships Awarded

SD FFA Foundation Links:
"The Future - the future careers of our young men and women in South Dakota; the future of strong ag-related businesses in the United States; the future of feeding a growing & hungry world. Swenson Investments and Commodities financially supports the S.D. FFA Foundation because we feel as an organization it really makes a positive impact on the FUTURE of young men and women. Through some great programs the S.D. FFA Foundation helps our young men and women develop real leadership skills, helps them grow personally and prepares them for a successful career. These young men and women will be the leaders in our future that will help stimulate our South Dakota economy by creating more jobs and helping solve future problems."

Brad Swenson, Owner, Swenson Investments & Commodities - Sioux Falls & Miller, S.D.

SD FFA Foundation Email Newsletters:
(Subscribe at the bottom of this page.)
SD FFA's New Era Newsletters: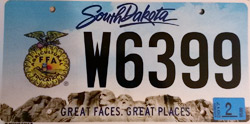 SD FFA License Plates
The SD FFA Foundation publishes the "SD FFA's New Era" newsletter
three times a year. This newsletter is available to every SD FFA member,
advisor and Foundation sponsor.
If you would like to advertise in this newsletter please click HERE.

Acrobat Reader is needed for many of the documents on this page. If you do not have it, you can download it free here.