Drive around showing your FFA pride!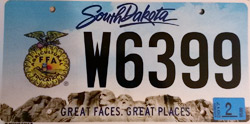 Want FFA license plates for your vehicle?
Here's how!
When renewing your license plates or buying plates for a new vehicle at your County Treasurer's office, ask for "organization plates." Plates are free for new issues and $10 for renewals.
Purchase a set of SD FFA license plate decals from the SD FFA Foundation at 39393 133rd St., Bath, SD 57427, 605-225-8904, or www.sdffafoundation.org. Or contact your local FFA chapter.
Put the decals on your organization license plates. Drive around showing your SD FFA pride!
Anyone who supports Agriculture Education and the FFA can purchase decals. Decals are $10 for current FFA members and advisors, and $15 for FFA Alumni and other supporters of the FFA and Agriculture Education. Make checks payable to the SD FFA Foundation.
For printable Decal order form, click HERE!

Proceeds from sales of FFA license plate decals go to the SD FFA Foundation and local FFA chapters to continue valuable Agriculture Education programs.
If your Chapter is interested in selling SD FFA License plate decals, please contact Gerri Ann Eide!